Introduction
In any language, email is short for Eatoni Mail.
Eatoni Mail is the most powerful multilingual email client for BREW cell phones. It uses Eatoni's LetterWise Predictive Text system to let users type their messages faster with the easiest text entry method in the world. Eatoni Mail allows users to send and receive email right on the phone, by accessing POP3 accounts and popular webmail services (Yahoo, MSN/Hotmail, Gmail, AOL and more). Eatoni Mail can also read RSS feeds.
With Eatoni Mail you can:
Access popular web email services like Yahoo, Gmail, MSN/Hotmail, AOL (and more) or POP3 accounts away from your PC.
Type faster than ever with the Eatoni LetterWise predictive text entry system.
Set the language of your choice. Currently English, Spanish, Portuguese and Russian are supported. (v1.0.7+)
Retrieve your messages up to 15000 characters long in any encoding.
Large font option for users with reduced eyesight.
Access news, weather, stock market, traffic alerts and more with the built in RSS Reader.
Store personal preferences for up to 10 email accounts.
Create contact lists with up to 50 entries.
Save draft messages to be edited or sent later.
Eatoni Mail is NSTL tested.
Screenshots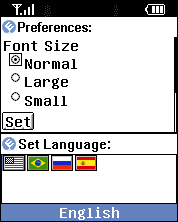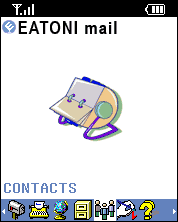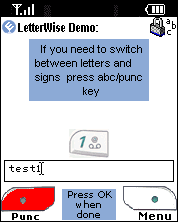 Manuals, FAQ, Support
Manuals in PDF (Adobe Acrobat) format:

In HTML:

For more information and customer support please visit our Contact Page.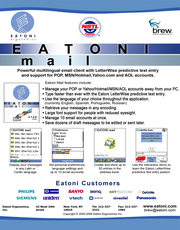 Marketing
For marketing or other purposes you may download our pdf flyer or our Power Point presentation.
Devices
The following devices are currently supported by Eatoni Mail.
/

/
CDM-180, CDM-8410, CDM-8600, CDM-8615, CDM-8900, CDM-8910, CDM-8940, CDM-8945, CDM-9200, PC-1000L, PN-215, TX-95C, TX-180

K323, KX-5, KX-13, KX-16, KX18, KX-160B

AX390, AX5000, BD5130, BD6070, BX4170, BX5000, BX5450, BX6170, BX7000, LX5450 , LX5550, MD185, MD5330, MX200, MX240, MX500, MX510, MX800, RD8000, TD6000, TD6100, UX4270, VX3200, VX4500, VX4600, VX4650, VX4700, VX4750, VX5200, VX5300, VX6000, VX6100, VX7000, VX8000, VX8100, VX8300, VX8500, VX8600, VX8700, VX9400

A840, C305, E815, E816, KRZR K1c, KRZR K1m, SLVR L7c, RAZR V3c, RAZR V3m, RARZ Maxx Ve, V260, V262, V263, V265, V267, V276, V325, V510, V710, V810, W315
SCH-A150, SCH-A410, SCH-A570, SCH-A650, SCH-A655, SCH-A670, SCH-A685, SCH-A725, SCH-A790, SCH-A795, SCH-A815, SCH-A820, SCH-A840, SCH-A845, SCH-A850, SCH-A870, SCH-A880, SCH-A890, SCH-A895, SCH-A915, SCH-A930, SCH-A950, SCH-A970, SCH-A990, SCH-L210, SCH-L310, SCH-N330, SCH-N415, SCH-N480, SCH-X609, SCH-U620
Carriers
We currently have Eatoni Mail users in the following networks. Note that some of the carriers (most notably Verizon US) have stopped supporting new Eatoni Mail installations.
| | | |
| --- | --- | --- |
| Centennial Puerto Rico | Telecomunicaciones Movilnet | Movistar Ecuador |
| | | |
| --- | --- | --- |
| Movistar Peru | Movistar Venezuela | nTelos |
| | | |
| --- | --- | --- |
| UNEFON | Verizon Dominican Republic | Verizon Wireless Puerto Rico |
| | | |
| --- | --- | --- |
| | Verizon Wireless | |